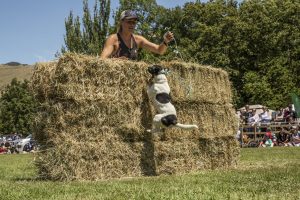 Unique to the Little River show and great entertainment for the crowd, handlers and dogs the dog high jump tests the jumping/climbing ability of small and big dogs.
Divided into the two classes, the competitors (dogs not handlers!) are required to jump onto conventional bales of hay. The competition runs as as a knock out, with each dog getting a couple of attempts at each height. As a each height is completed another bale is added on until we are left with a winner.
The current record is 8 bales high – or about 2 metres – for the big dogs with most of the smaller dogs reaching 2 bales high. But, as with so much of the show, it's the participation and not the winning that counts!
So whether you have a flying Foxy or a hurdling Huntaway, be sure to enter your 'best friend.' Entry is open to all dogs and competition usually gets underway in the main ring around 12.30pm on show day.
Special thanks to Royal Canin for their kind sponsorship of this event in the form of prizes.